The Team at Rockind Law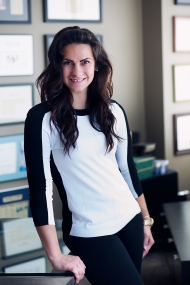 Breanna Weiner - Paralegal
Breanna is the glue that keeps everything together. Not only is she one of the best paralegals with whom I have ever worked but she is the one person that really knows everything that's going on in our office. You will most likely meet Breanna or talk with her before anyone else in the Firm.
Breanna can get pretty busy but she never stops cheering us up and making clients happy - It's just in her nature. I receive many compliments from clients about how cheerful and polite she is.
Breanna holds an associate's degree in business, concentrating in paralegal from Baker College of Auburn Hills and is currently pursuing her Bachelor's degree. She is a member of the Oakland County, MI bar association and our firms acting Notary. She was born and raised in Madison Heights, Michigan and graduated from Clawson High School. Breanna went to school to pursue a degree as a paralegal because she has always had a true passion for criminal law.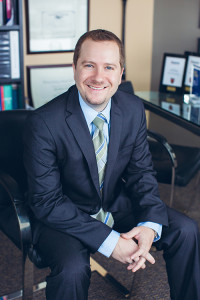 Colin A. Daniels Esquire - Associate Attorney
Colin can often be found working late into the night, working on motions and briefs or in the Rockind Law "War Room" with Neil Rockind, studying different aspects of cases, reviewing discovery, and planning trial strategies. His role is integral to helping our firm prepare for trial. His experience in the public defender's office keeps him ahead of most situations in the courtroom and with more than 10 years at Rockind Law, he has proven to be a skilled advocate for our clients.
Colin earned his Juris Doctorate from the University of Detroit Mercy School of Law and a bachelor's degree in political science from Albion College. Colin is admitted to the State Bar of Michigan and the U.S. District Court for the Eastern District of Michigan.
Colin interned with the Washtenaw County Public Defender's Office during his first two years of law school and with a small criminal defense law firm in Ann Arbor, during his final year of law school. Prior to law school, Daniels served as a full-time volunteer performing community service projects in the Americorps National Civilian Community Corps (NCCC).
Bar Admissions:
State Bar of Michigan
U.S. District Court Eastern District of Michigan
Professional Associations and Memberships
State Bar of Michigan, Member
Wastenaw County Bar Association, Member
Oakland County Bar Association, Member
American Bar Association, Member
Federal Bar Association Eastern District of Michigan Chapter, Member
State Bar of Michigan, Crimanl Section, Member
Samar Chouman - Associate Trial Attorney
Samar joined our team in July of 2021. She has a deeply held, heartfelt belief that a caring, committed lawyer can make a difference in the lives of her clients. It is for this reason that she became a lawyer and joined our firm. She earned her Bachelor of Arts (Honors) Degree from the University of Windsor and a Juris Doctorate from WMU Cooley Law School, in Auburn Hills. During her time in law school, Samar excelled academically landing her on the Dean's List and earning her the Certificate of Merit in Negotiation Skills for Hon. Judge Eric W. Cholack's class. It is an academic award given to the student who earns the highest grade in the class. Samar served as a member in the Student Bar Association and represented her school in her involvement with the Detroit Bar Association's Charitable and Community Outreach Committee. During her final semester of law school, Samar interned with Hon. Judge Adel A. Harb out of Wayne County Circuit Court, in the Family Division, and assisted various judges in Wayne County's PPO Court. She currently serves as an executive board member and the recording secretary for Franco-Sol Garderie, a French pre-school, in Windsor, Ontario.
Samar is admitted to the State Bar of Michigan and the U.S. District Court of the Eastern District of Michigan. Samar is also fluent in Arabic.